Angelo Polito was born in Licata, Agrigento (Sicily, Italy), on August 5, 1921.
At the age of fourteen he leaves his beloved Sicily, travels to the region of Piedmont and joins the seminar of Alba,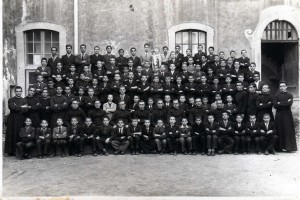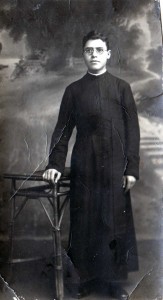 where he is going to stay up until he is twenty-five. For reasons even he could ever explain to himself, he decided not to go back to the seminar after a holiday spent in Licata. He is not facing a religious crisis. Actually, faith is and will stay his rock until his last days of life.
He stays in his village for quite some time, and then he moves to some relatives in Rome. He starts working as an insurer. In 1950 he meets the love of his life, Antonietta, whom he's always referring to as Ina, short for her name; a young woman from Cassino (FR) arrived in Rome with her mother and younger brother following the tragic strafing of Montecassino. Angelo and Ina got married in October 12, 1952 at the "Ascensione di Nostro Signore Gesù Cristo" church in the neighbourhood of Quarticciolo.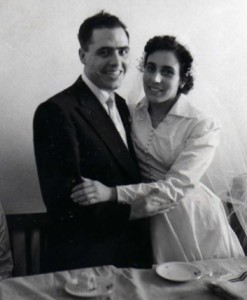 In 1953, their union welcomes the first-born daughter Giovanna; in 1955 it's another girl, Loriana; Massimo, the boy, was born in 1957 and in 1961 finally arrives the girl who is still considered today as the "little one" of the family, Annamaria. In January 1958, Angelo and Ina move to Quarticciolo in Via Olevano Romano, where they were given a council flat. They start attending the church of the neighbourhood, Chiesa dell'Addolorata, until the day Angelo founds out, after a serious sickness his son Massimo suffered from, about the Parish of S. Maria della Misericordia, in Borgata Gordiani. Massimo, who was only five back then, was feverish and refused to eat for days. The family doctor had a check on him, he had prescribed a cure and things seemed to look better. The doctor had return for a check-up in the afternoon confirming that the child was getting better. The same night Massimo has an attack; Angelo starts panicking and goes out desperately looking for a phone (they didn't have mobile phones back then and, since they were living in brand new buildings, they didn't have any landline either). Walking, almost running, he gets to the Borgata Gordiani and sees the Parish. He enters and, once he explains his situation, he manages to call the doctor who tells him what to do. This is the first encounter between Angelo Polito and don Giovanni Paganizza, parish priest of Santa Maria Madre della Misericordia. An encounter that will become with time a precious collaboration. Angelo, in fact, doesn't just attend the holy mass every Sunday with his family, but he participates with engagement to great part of the parochial activities along side with an enthusiastic group of men full of love for Christ and for their own brothers. He starts working side by side with the Parish priest on the economic development and the evangelisation of the neighbourhood; a neighbourhood that used to be a place full of problems and of necessities both material and spiritual. He becomes president of Uomini d'Azione Cattolica (the Men of the Catholic action).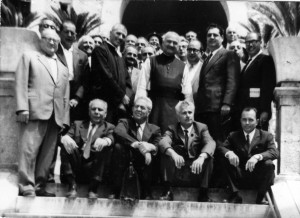 The last Sunday of May is usually the celebration day of S. Maria Madre della Misericordia, and since the first day of the month Angelo runs through alleys of the neighbourhood along side with his brothers in faith in order to awaken traders, inhabitants and also occasional visitors, to sell tickets of the lottery so that the festivity will be worthy. During the Procession, his voice echoes hard to the outcry of "EVVIVA MARIA… EVVIVA MARIA". That outcry comes from the heart and shows the great love and the deep devotion that Angelo always has had for the Celestial Mother and he manages, with his enthusiasm, to drag the whole neighbourhood along.
Years go by. In 1977 Angelo's second child, Loriana, gets engaged to Lambert and Africa comes into the house of Politos. The fiancé, in fact, is someone they usually refer to as "coloured man", originally from Congo Brazzaville, Central Africa. The two get married in February 1979 and after seven years and four children, Loriana follows her husband to Congo, where he had return a year ago after he graduated in Mining engineering at the University La Sapienza of Rome.
There comes 1989 and Angelo and Ina decide to pay a visit to their daughter, who gave birth to her fifth child meanwhile, in Africa. On December 20, 1989 they land at the airport of Pointe-Noire, economic capital of Congo and city of residence of the N'goumba Family (that was Loriana's husband surname).
The couple is happy to see that their daughter and her family live in a nice house furnished with every commodity. Angelo, however, knows that reality is not the same as his beloved relatives for many locals. His missionary spirit forces him to visit the poorest neighbourhoods of the city, even if it is right to say that most of the time poverty and wellbeing are found one right next to the other in Africa. Alongside with Congolese priests, he founds out about situations of uneasiness, misery, ignorance, lack of hygiene, injustice.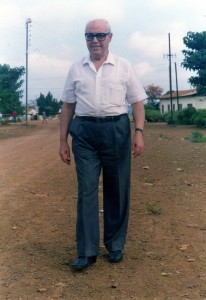 During a journey to one of the villages of Congo, witnessing a woman giving birth under a tree, he makes a promise to himself that once he will be back to Italy he would have knocked at everyone's door begging and, if necessary, kneeling so he could obtain some help for his "brothers" from abroad.
He keeps his promise. Back to Rome, after six months away, he starts immediately to awaken people, friends and mostly people from parishes. He collects funds to send to Pointe-Noire to help building schools, medical attendance centres, to buy medicines. However, Angelo is convinced that the development of a population begins from his instruction. He decides therefore to create an association which main goal will be to the support studies of children/ kids from Central Africa, in particular from Congo Brazzaville, through long distance adoptions. An association that will carry the name of that very parish priest, who from many years by now had return to the house of the Father, with whom Angelo has shared many battles in order to help the last ones, the most neglected ones: "Piccola Opera don Giovanni Paganizza" is born. Their motto: "I am naked… I have hunger… I do not know how to read… I do not know how to write". Yet: "We continuously give thanks to God for you" (Saint Paul).
During its firsts years, the association works in a "home-made" way. Angelo, thanks to his capacity to communicate, manages to gather a fair group of collaborators and to attract many supporters, by building with everyone a real and proper relationship of Christian friendship.
Angelo and Ina travel back to Congo several times. In one of their lasts journeys there, they fortify their friendship with a religious man from Congo Kinshasa who was a missionary in Pointe-Noire, father Aimé Mobwete from the Community of the Beatitudes. The three had already met in Rome, through Loriana. Father Aimé, along side with one of his "spiritual daughter", is building an orphanage in Pointe-Noire which will be called "Padre Pino Puglisi"(Father Pino Puglisi) where not only the orphans that the religious man helped during the war of 1997 will be welcomed, but also all the children who, for different reasons, are left alone or have been abandoned, and also those whose paths will cross the Divine Providence. The Orphanage will work under the supervision of a local association, the Anuarite Family, of which father Aimé is the vice-president and Mme Giselle Mantot (this is the name of the co-founder), the president. A big collaboration between the two Associations starts, most of the children and youths of the Orphanage are adopted from long distance by the Piccola Opera that supports the work of father Aimé also by collecting funds in order to help with the construction of the structure.
With time and with the activity getting bigger, they realise that it is right to officialise the Association and in 2010, after been considered as illegible, the Piccola Opera becomes one the recognized associations of voluntary of the Region of Lazio.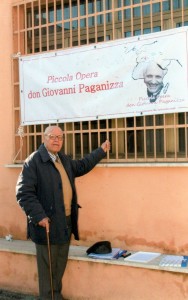 On February 25, 2010 Angelo Polito returns to the house of the Father. During his last days of life, his thoughts mostly go towards "his Africa". He repeats continuously these words: "The children, do not abandon the children". And also "LOVE EACH OTHER, IT DOESN'T COST ANYTHING".