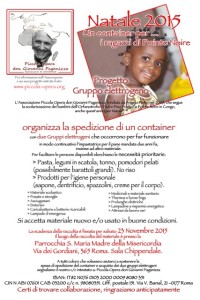 During Piccola Opera's third meeting (details will be provided in the next chapter ), it has been decided to send a new container (Christmas container for 2015) for the people hosted in the orphanage of Pointe-Noire ( Republic of Congo). This container will carry generators as a part of the Electricity Generator Project, which was mentioned in the previous chapter.
This year we have received generous contributions compared to last year, which has enabled us to send a bigger container to Pointe-Noire. Given that this year we have the opportunity to send a bigger container , we would like to organise the collection in a systematic manner. We have a list of items that the orphanage needs, hence we ask you to contribute generously.
Our President, who is also the founder of this project is a graphic designer by profession. He has designed the flyers for this project. You can find the list of items that we are collecting in the flyers attached on this website. The last day to contribute for this project will be the 23rd of November 2015.
With the participation of all members, we have been able to achieve one of our primary goals, to send the electricity generators, because of the generous donations received this year compared to all previous years.
Due to shortage of power supply, Pointe-Noire relies on power generation from generators rather than conventional sources. Hence we will be sending 2 generators of 10 KW each, so that our brothers and sisters can get continuous supply of electricity.
The electric generators will need to be secured from natural phenomena; we will update you more on this.
We request you to open your heart and soul and contribute generously for our brothers and sisters who are less fortunate. Please experience the joy of sharing , as Jesus says in Matthew 25:40 "Truly, I say to you, as you did it to one of the least of these my brothers, you did it to me."
Glory to God in the highest, and on earth peace to men of good will!