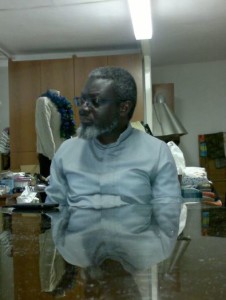 During the night of last May 4th, some voluntaries of the "piccola opera" met to overview the current situation and to decide together about what to do next. The meeting was even more gratifying given the profitable presence of Père Aimé Mobwete who's in charge of the kids and youth of "Padre Pino Puglisi" Orphanage in Pointe-Noire!…
Last may, the oven – the one we mentioned in the article published last week – was still under construction; therefore, the best method of isolation possible with ashes, sand and expanded malleable have been discussed. Our brothers and sisters in Pointe-Noire also need good advices to built and operate their new infrastructures.
The presence of Father Aimé allowed us to talk more in depth about the kids and youth the Orphanage is taking care of, with the concrete contribution of the "piccola opera". Given the law of the Republic of Congo, every child whose parents are still alive must be reinserted within his/her family even though the Orphanage is still taking care of him/her. This is an example regarding the way the Orphanage will have to provide its help to the ones in need: in other words, it is not always possible to "connect" your own contribution to an adoption from distance that responds essentially to a "specific name".
We have reminded Father Aimé the importance of frequently giving us news about Ponite-Noire, so we could update all the people whose individual involvement supports concretely the activities of the "piccola opera" via the website as well as via the Youtube channel (https://www.youtube.com/channel/UCWLBlWaj9runnEVeB5AWRgA ) which are now a reality.
Moreover, its seems essential and important to have a closer look to the work that is actually done in the schools offering (for a price, of course) their services of education to "our" youth. It seems as much important to clearly establish the correct modalities of that support with the families of the children and the youths the Orphanage is in charge of.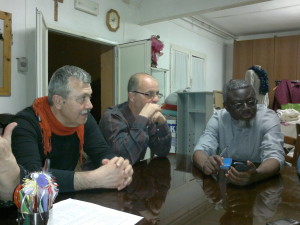 Finally, Père Aimé Mobwete shared with us "his" facebook page (https://www.facebook.com/Assfamille-Anuarite-707630046037223/timeline/ ) where it is possible to get more information about the lifestyle in the Orphanage "Padre Pino Puglisi" of Pointe-Noire. Like and share!…
A nice group picture has brought the meeting to a close; the priest wearing a grey robe is the Father Aimé Mobwete. May The Lord never take such priests with so much dedication on the field as well away from us!…