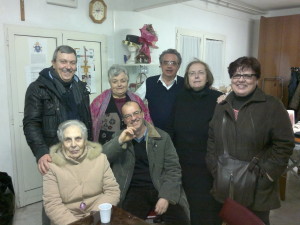 On the evening of February 18th some volunteers of the "piccola opera" gathered to discuss the progress of previous and up and coming situations within the "piccola opera". There are always distractions within our own lives however we don't let this stop us!
From relationships with benefactors – that allow us to support approximately 50 children at the orphanage Father Pino Puglisi, to implement small projects of infrastructure and to occasionally send containers of humanitarian aid – to relations with the Association "Famille Anuarite" that operates directly on site of the update and improvement of the new website and YouTube channel (https://www.youtube.com/channel/UCWLBlWaj9runnEVeB5AWRgA ), to the fulfillment of legal obligations, to the need to reorganize something, …, there's something for everyone! … and, probably, even for a few more!
There will be the Shareholder's Meeting in a little while; this will certainly be the opportunity to invite all those who wish to know more about the "piccola opera" and maybe there will also be someone of good will between them ,that the Providence will send us to increase the forces according Gods' will. Let yourself get tempted by volunteering: it is good for those who do it and is good for those who benefit!
We also took a memory picture: the man "in black" on the left is our President Pino Ramacciato, and sitting in front of him is "Ina", our unforgotten founder, Angelo Polito's wife, who despite some problem desired to visit us. Thank you "Ina"!